Artopos
Website:
http://www.artopos.org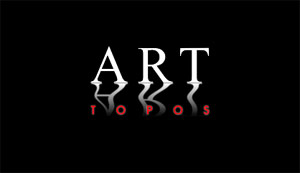 Artopos.org started on 5th March 1996 in order to present in Greek and English, the work of important Greek artists on the Internet which back then consisted of about 25 million users.
---
Anna Hatziyiannaki: CV
Anna Hatziyiannaki works and lives in Athens. She is an art historian who has since 1966 worked on the Interdisciplinary Approaches to Culture, as an independent reseacher, writer and curator. She studied in Paris (1974-1981) in the University Paris VIII (Vincennes), Art Plastiques (Licence) and Methodologie des Arts Plastiques (Maitrise) and got her postgraduate degree (D.E.A.) in Etudes Théâtrales, Cinematographiques with professor Franc Popper. Her second postgraduate (D.E.A.) was with professor Jean Laude in Sorbonne (Paris I) in Ethno-Esthétique, Anthropologie de l' Art.
Upon returning to Greece she worked in the media as a journalist and columnist on art and culture subjects. Since 2009 she has had a permanent column on the subject of technological art in the monthly newspaper "Art News". She has given a series of lectures with a thematic drive based on the Interdisciplinary approaches to Culture and has presented corresponding papers in national and international conferences. As a New Media Curator, she has organised exhibitions with foreign and Greek artists, in real space and online. In the period between 2010 - 2014 she was an elected Municipal Counselor in the Municipality of Athens with the political faction "Right to the city", and worked for the Cultural Organisation and the International Relations of the Municipality. She was elected Vice President of the Metropolis Women International Network and participated in a committee of elected counselors of the Central Organisations of Municipalities of Greece within the Council of European Municipalities and Regions.
She is the president of the non-profitable organisation for technology and art, Artopos and was also a co-publisher of the first bilingual website of Modern Greek art alongside Dimitris Skoufis (1953-2007), www.artopos.gr. She is a member of the Association International des Critiques d' Art (AICA) and AICA - Hellas and also the Journalists' Union of the Athens Daily Newspapers (Ε.Σ.Η.Ε.Α.). She is also the writer of: Art in the Age of Biotechnological Revolution (2006), Theofilos, Μοnograph about Theofilos Hatzimichail (2007) and Costas Barotsos Monograph (2008).
Linkedin : ANNA HATZIYIANNAKI
---
Back