Staff
---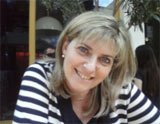 Kanellopoulou Aikaterini
PhD Student, Department of Audio and Visual Arts, Ionian University.
Personal website:
http://kanellopoulou.ihrc.gr/
---
PhD research topic:
This PhD researches whether contemporary audiovisual art forms, such as films and video clips of pop songs, could play a major part in teaching the vocabulary of a foreign language more effectively. It focuses specifically on teaching English vocabulary to Greek native speakers.
---
---
Back