Staff
---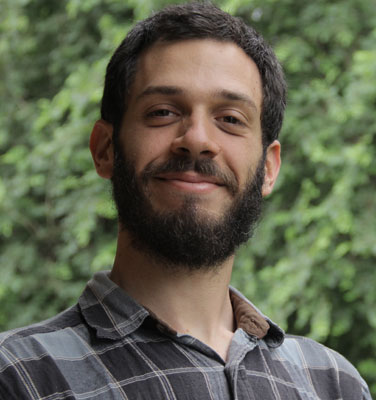 Nikopoulos Georgios
PhD, Department of Audio and Visual Arts, Ionian University.
---
Publications:
1. Journal publications
2. Books
3.Conference proceedings
4. Book Chapters
5. Other publications
ART PROJECTS - WORKSHOPS:
Creative Projects:
1. Filmography
2014, "Must cookies of Agisilagos" Dimitris Baslam, short animation movie. Direction and animation, producer: Ktima Gerovasileiou & Dimitris Baslam
2013, Commercial for Corfu Microbrewery, four video animations
2. Individual Exhibitions
3. Thematic Exhibitions
4.Group Exhibitions
2006, KODRA festival. "Basel & Mary", stop motion animation
2007, KODRA festival. "My rotten self", video performance
5. Other Creative Project
Illustrations
2015, "Sofia, a bee who likes reading", Dimitris Baslam. University of Cyprus
2008, "Miller and his cat", storytale from Pontos. Pontiac Association of Pieria
Theatre as an actor
2015, "Barytone's shoes" Dimitris Baslam. Direction Dimitris Sotiriou, Dimitris Baslam. Municipal theater of Corfu
2011, "Persians" Aeschylus. Director Dimos Avdeliodis. Anagnosis
2010, "The only journey of his life" Georgios Vizyhinos. Director Dimos Avdeliodis. Anagnosis
2010, "Trackers" Sophocles. Director Dimos Avdeliodis. Anagnosis
2009, "Arta's Bridge". Director Katerina Polichronopoulou. Municipal theater of Corfu
Theatre as a director assistant
2013, "Woman from Zakynthos" Dionysios Solomos. Director Dimos Avdeliodis. Athens Festival
2013, "Perliblin and Belissa" Federico Garthia Lorca. Director Dimos Avdeliodis. Theatrical Organization Acropol
2012, "An ode for Alexandros Panagoulis" Dimos Avdeliodis. Director Dimos Avdeliodis.
2011, "Erophile" Georgios Chortatsis. Director Dimos Avdeliodis. National Theater of Greece
Workshops
2013 – 2015, Physical theater and ancient chorus workshop, Municipal theater of Corfu
Music
2013 – 2015, Concerts all over Greece and Cyprus with musician and writer Dimitris Baslam
PhD research topic:
Shadow Theater and Animation, two kindred arts. Materialisation of an artwork by combining shadow theater techniques and animation techniques in an interactive environment.
This research approaches, through a series of artworks, a digital media enriched type of shadow theater which preserves the vital elements of this performing art, examining contemporary trends both within shadow theater and within the digital techniques involved with it. For this reason, this research is performed on the double basis of a review of previous literature and analysis of works by other artists on the one hand and, on the other one, collaborative observation of a shadow theater group and creation of new plays based upon study and experimentation on figure and player physicality behind the curtain.
In parallel, basic questions regarding the necessity of the blending of these two arts are posed at each point of this process. Finally, is there a need for Greek shadow theater to develop aesthetically and in terms of direction by showing rich animation images on the curtain? Will such a shadow theater still be able to confer the sensation of being traditional? Should that art still be considered as shadow theater, even if figures are cut off from their player or if figures are turned into digital models moved by the manipulator without touching them?
---
---
Back