InArts Lab partnering to reshape the Festival of Art & Science FACTT 20/21
27-01-2021 12:46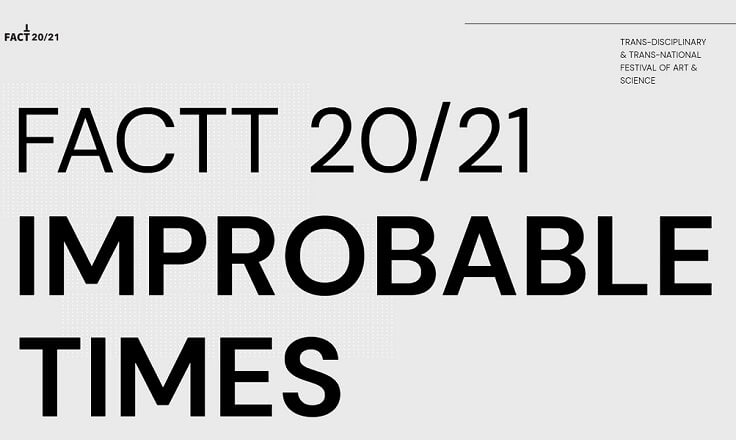 FACTT 20/21: Trans-disciplinary & Trans-national Festival of Art & Science opens on January 28 2021, at 8.30 PM (GMT) and will be exhibited online during 2021 with different events to be announced taking place throughout the year across continents. FACTT, since 2017 spearheaded and promoted by the Arte Institute in collaboration with Cultivamos Cultura and Ectopia (Portugal), is now partnering with InArts Lab@Ionian University (Greece), ArtSci Salon@The Fields Institute and Sensorium@York University (Canada),  School of Visual Arts (USA), Arte+Ciencia@UNAM and Bioscenica (Mexico), and Central Academy of Fine Arts (China) to jointly curate Improbable Times.
The challenge of a translation from the physical space that artworks typically occupy, into an exhibition that lives as a hybrid experience, involves rethinking the materiality of the work itself. It also questions whether we can live and interact with each other remotely and in person, producing creative effective collaborative outcomes. Improbable Times brings together a collection of works that reflect the times we live in, the constraints we are faced with, the drive to rethink what tomorrow may bring us, and to navigate and build a better future, beyond borders.
Program January 28, 2021 | starting 8:30 PM (GMT):
- Introduction to FACTT 20/21.
- Improbable Times exhibition opening: Adam Zaretsky "biTransversal Symmetry", Amy Youngs "Grasping Permeability", Arte + Ciencia "The third Body", Bill Psarras "Objects In Odysseys", Hannah Fitgerald "Life Hack", Maria Manuela Lopes "Adaptive Membrane", Michael Palumbo, Kavi, Debashis Sinhan & Joel Ong "Void * Ambience: Latency", Tania Tsiridou "Askos: The Wind Repository", Tarah Roda "Tear Apart Here" and Suzanne Anker "Remote Sensing".
- Performances: "Void * ambience: Latency" with Joel Ong, Michael Palumbo and Kavi (Toronto) and "El Tercero Cuerpo Sonoro" (Third Sonorous Body) by Arte+Ciencia (Mexico City).
- Q&A.
More info https://www.facebook.com/events/171277861003909
FACTT 20/21 TEAM:
Organization: Ana Ventura Miranda
Head Curator: Marta de Menezes
International Curators: Suzanne Anker (US), Roberta Buiani (CA), María Antonia González Valerio (MX), Dalila Honorato (PT/GR), Lena Lee (MX), Joel Ong (CA), Minerva Ortiz (MX), Jo Wei (CH).
Production: Diana Aires (Archive, Education & Mediation Projects), Ana Marta Louro (Archive, Education & Mediation Projects), Claudia Figueiredo (producer), Gabriel Lora (Webmaster), Filipa Santana Carlos (Design).
---
Back