InArts members Dalila Honorato, Tania Tsiridou and Bill Psarras participate in FACTT 20/21: Trans-disciplinary & Trans-national Festival of Art & Science
08-03-2021 11:23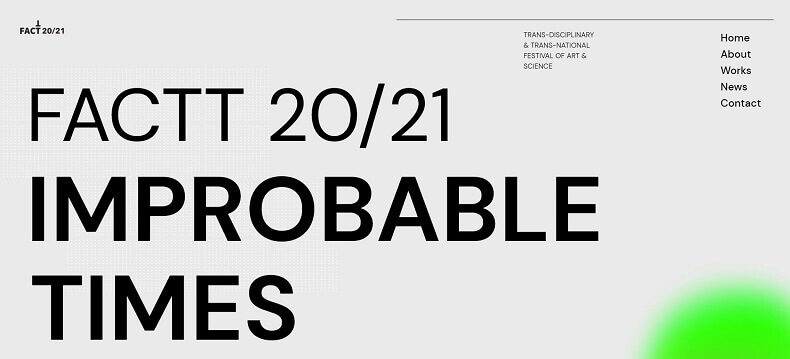 A project with the support of the InArts Lab@Ionian University - Department of Audio and Visual Arts counting with the participation of Dalila Honorato, Tania Tsiridou and Bill Psarras, FACTT 20/21: Trans-disciplinary & Trans-national Festival of Art & Science had its second event on February 28th 2021, at 8.00 PM (GMT). The program included the release of ten artworks in the online exhibition Improbable Times <http://factt.arteinstitute.org/> while introducing a playful series of critical reflections by María Antonia González Valerio on the exhibition's theme.
On the second day, Alan Tod "Forest is Art: Embassy", BIOSCÉNICA "Empathy 5.3/ Oniris or lucid body", Carla Rebelo "Becoming", Carolyn Angleton "Re-culturing", Dalila Honorato - Isabel Burr Raty - Karolina Żyniewicz - Robertina Šebjanič - Louise Mackenzie - Pavel Tavares "Staying in Touch", Ken Rinaldo "Opera for Dying Insects", Lena Lee - Robertina Šebjanič "Aviacene & Aquatocene: Stories of Cantera Oriente Reserve", Minerva Hernández Trejo "Cempoallapohualli live sculpture", Tania Tsiridou "Unpredictable Wind Trajectories" and NETWRKr; " echo =('eco$crapes)". 
Older works included Adam Zaretsky "biTransversal Symmetry", Amy Youngs "Grasping Permeability", Arte + Ciencia "Third Sonorous Body (Tercer Cuerpo Sonoro)", Bill Psarras "Objects In Odysseys", Hannah Fitzgerald "Life Hack", Maria Manuela Lopes "Adaptive Membrane", Michael Palumbo - Kavi - Debashis Sinhan & Joel Ong "Void * Ambience: Latency", Tania Tsiridou "Askos: The Wind Repository", Tarah Rhoda "Tear Apart Here" and Suzanne Anker "Remote Sensing".
The program also presented the online live performance "Empathy 5.3 - Oniris, or the awakening of the lucid body" a work by Bioscénica, for FACTT Mexico City 2021 with Minerva Hernández Trejo and Eurídice Navarro (live performing + transmedia), Julian Bonequi (sound design + TidalCycles + vocal improvisation), Alejandro Ortiz González (poetry + voice), Tamara Cruz, Abigail Jara (costumes).
FACTT is a project spearheaded and promoted by the Arte Institute in conception partnership with Cultivamos Cultura and Ectopia (Portugal), and, for its 20-21version, in curatorial collaboration with InArts Lab@Ionian University - Department of Audio and Visual Arts (Greece), Artscisalon@The Fields Institute and Sensorium@York University (Canada), School of Visual Arts (USA), UNAM, Arte+Ciencia and Bioscénica (Mexico), and Central Academy of Fine Arts (China).
---
Back