Interactive Arts Lab: Acting in Animation seminars by Ph.D candidate Giorgos Nikopoulos [Spring Semester]
24-03-2014 18:22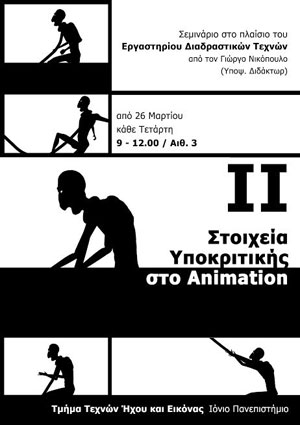 Series of seminars entitled: Elements of Acting in Animation
Lecturer: Giorgos Nikopoulos
The seminars of the spring semester "Elements of Acting in Animation" are part of the two eponymous, introductory seminars that took place during the winter semester. During these seminars the students are called to set a personal goal, which is part of a broader team goal. The team goal is to present a series of actions-choreographies, which the students have to accompany with an animation piece. The aim is for the action of the students to be simultaneous and combined with the animation they have created. The choreographies will be presented behind a cloth, like shadow theatre figurines, on which the corresponding animation will simultaneously be projected.
The project will not contain any computer interaction, besides the freedom of movement from the person in action. The outer goal is that every student succeeds in creating a body language, which not only can be upheld by himself, but also can be directly inspired to his digital character.
On the one hand, the use of shadows creates an abstract image that could easily create the illusion of who is who, whether the digital or the physical character is the one moving, and on the other other, it is a way for students to work effectively in the short amount of time that is given to them.
In the coming period, from March 24 until mid May (including the Easter Holiday) the project must be completed in order to be presented at the Audiovisual Arts Festival. The work schedule includes the recovery of small stories, character design– figurines of the participants, design of a choreography and character animation. Then a series of rehearsals is necessary in order for the student to achieve perfect synchronisation with their digital characters.
The lectures will be held every Wednesday, starting on 26.03.2014 from 09:00 to 12:00 pm.
Room 3, Aretaios Building



---
Back